Snowshoeing is one of the oldest winter sports in the world, dating back some 5,000 years, but it is also the fastest growing currently. Snowshoeing is easy to pick up, with a very gentle learning curve, and is a great way to get some exercise and access some gorgeous winter views. With the sport's increasing popularity, a growing number of alpine resorts, hiking areas and regional, provincial and national parks are catering to snowshoers. Here are some of our favourite places to hit the trails, from the coast of British Columbia to the fields of Prince Edward Island:

Mount Seymour, British Columbia
Named the #1 Resort for Snowshoeing in North America by Snowshoe Magazine in 2012, Mount Seymour is located just minutes from downtown Vancouver and offers a wide range of trail options from beginner to expert. Trails wind through the majestic old growth forest and past beautiful lakes, and you can even book a guided snowshoe tour.
Photo Credit: @intheordinarylines

EC Manning Provincial Park, British Columbia
Offering some of the most scenic winter landscapes in British Columbia, snowshoers can check out a large variety of snowshoe-specific trails in EC Manning Provincial Park, or explore some of the park's famous summer hiking trails. Majestic old growth forest and deep, deep snow await.
Photo Credit: British Columbia GPS Maps

Banff National Park, Alberta
There are just too many amazing snowshoe options in Banff National Park to list here, but you can expect stunning Rocky Mountain scenery in every direction. A couple of the most notable snowshoe adventures include the 12 km (7.5 mi) return trip to the Ink Pots (seven aquamarine spring-fed pools) and the 8 km (5 mi) return trek to Lake Agnes.
Photo Credit: www.todocanada.ca

Kananaskis Provincial Park, Alberta
Like Banff, your options for snowshoeing in Kananaskis Provincial Park are numerous. And, like Banff, stunning views of majestic Rocky peaks abound in every direction. A couple of popular snowshoe routes include the trip to Rummel Lake and the 10 km (6 mi) return trek to Chester Lake, where a short side trip will lead you to the giant boulders known as the Elephant Rocks.
Photo Credit: Alberta GPS Maps

Moose Mountain Provincial Park, Saskatchewan
This scenic provincial park grooms around 10 km (6 mi) of snowshoe trails which wind through mature birch and aspen forest, offering plenty of opportunities to see birds and small mammals along the way. This is one of Saskatchewan's favourite outdoor destinations in winter, and even hosts a Winter Carnival each February.
Photo Credit: Moose Mountain Provincial Park @chelseyoka

Prince Albert National Park, Saskatchewan
Located just north of the city of Prince Albert, this park offers a variety of ungroomed snowshoe trails that explore the area around Waskesiu Lake. There is even a disc golf course that is popular with snowshoers in the winter, and a nice warm-up shelter to relax in after a day of exploring.
Photo Credit: Saskatchewan GPS Maps

Riding Mountain National Park, Manitoba
With 43 km (27 mi) of groomed trails and an unlimited amount of off-trail snowshoe options, this park is a treasure trove of snowshoe adventure. For a unique snowshoe experience, head out on a moonlit night – Riding Mountain is Manitoba's first Dark Sky Preserve and offers breathtaking views of the northern lights.
Photo Credit: cbc.ca

Beaudry Provincial Park, Manitoba
Located just 14 km west of Winnipeg, this easy-to-access park offers 1,200 hectares (3,000 ac) of beautiful prairie wilderness to explore. One of the main draws for snowshoers here is the frozen Assiniboine River, which you can follow for as long as you like as you take in the sights and sounds of nature.
Photo Credit: Manitoba GPS Maps

Frontenac Provincial Park, Ontario
Winter visitors to Frontenac Provincial Park will find an extensive array of snowshoeing options, from beginner loops of 1.5 km to more strenuous adventures of 20 + km (16+ mi). Explore an enchanting landscape of frozen beaver ponds, pine forests and rugged Canadian Shield granite in one of Ontario's most scenic provincial parks.
Photo Credit: www.parksbloggerontario.com

Mashkinonje Provincial Park, Ontario
Mashkinonje means muskellunge in Ojibwa, and though this area is known for its fish, it also offers over 30 km (19 mi) of trails to explore via snowshoe in the wintertime. Trails wind through the area between Lake Nippising's West Bay and West Arm, leading through the forest and past numerous frozen ponds.
Photo Credit: Ontario GPS Maps

Elmhurst Outdoors, New Brunswick
This family-run all-season recreation facility offers 10 km (6 mi) of snowshoe trails in the winter, which lead to a number of scenic viewpoints over the St. John River and the surrounding farmland. There are also guided Moonlight Snowshoe Hikes and a weekly Snowshoe and Vittles event that combine snowshoeing with delicious home-cooked meals.
Photo Credit: tripadvisor.ca

Sugarloaf Provincial Park, New Brunswick
This 1,110 hectare (2,720 ac) park boasts an average annual snowfall of 3 to 4 metres (10 to 13 feet) and offers a variety of snowshoe trails that wind through the forested landscape, offering views of Mount Sugarloaf and Prichard Lake.
Photo Credit: tourismnewburnswick.ca

Halifax Urban Trails, Nova Scotia
For many residents of Nova Scotia's capital city, excellent snowshoeing can be found right outside of their front doors. A number of municipal parks cater to snowshoers in the winter, including Shubie Park, Sir Sandford Fleming Park and MacDonald Sports Park.
Photo Credit: blog.viarail.ca

Sugar Moon Farm, Nova Scotia
With over 30 km (19 mi) of multi-use trails, Sugar Moon Farm is a favourite destination for Nova Scotian snowshoers, and not just for the homemade pancakes and maple syrup that the Farm serves, either. Trails such as the Rogart Mountain Loop lead through picturesque east coast woodland to panoramic views over the surrounding area.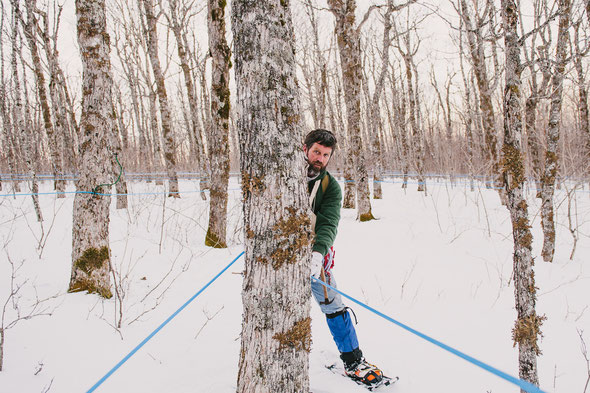 Photo Credit: Sugar Moon Farm

Corduroy Brook, Newfoundland
Winding through the heart of Grand Falls-Windsor, Corduroy Brook offers 15 km (9 mi) of nature trails that are great for beginner snowshoers. Wildlife is common, including rabbits, foxes and a variety of birds, and there are opportunities to step off the beaten path and explore some un-cleared terrain around a series of frozen ponds.
Photo Credit: newfoundlandandlabrador.com

Gros Morne National Park, Newfoundland
This rugged coastal landscape does not see a lot of winter use, making it ideal for adventurous snowshoers who want to check out one of the Maritimes' most stunning wilderness areas. Popular routes for snowshoers include Gros Morne Mountain, Burridge's Gulch, Lookout Hills and Humber Valley.
Photo Credit: Newfoundland & Labrador GPS Maps

Winter River Trail, Prince Edward Island
Located just 5 km from Charlottetown, this trail leads you through white pine forest on the banks of the Winter River, with sections of boardwalk and footbridges over smaller streams. Keep your eyes out for rabbits and signs of fox and coyote.
Photo Credit: Life on Island

Brookvale Provincial Park, Prince Edward Island
Found in the heart of Queens County, this wooded park features a number of easy snowshoe trails that lead through woodlands and open field, connecting a couple of nice lodges where you can find hot meals and other amenities.


Photo Credit: Atlantic Canada GPS Maps
---
You can find your way to these and other prime snowshoeing locations with the help of our Backroad Mapbooks and Backroad GPS Maps, which also provide detailed descriptions of the best winter recreation locations across Canada. Here is to making the most out of our beautiful winters – have fun and stay warm!